Six Tips to Decorate Your Hallway
Many homeowners ignore to decorate their hallways.  It is the first place guests will cast their eyes on when they step into your house. Hallways are an integral part of a home that requires decoration just like every other section.
There are different techniques that you can use to beautify your hallway. They are
Wallpaper
Wallpapers are the most widely used decoration elements used in designing the hallway. You can make use of wallpaper with a different color, pattern, and designs to create a warming and welcoming entry point.
Create Function
You can place bookshelves and coat hangers at any point of your hallway. This helps you to infuse function into your hallway and make a statement to your visitors.
Paint Your Hallway
You can make your hallway pleasing and thrilling by adding colors to the walls of your hallway. Use colors that will incorporate warmth, coziness, and calm into the section of your home.
Expand With Mirrors
Hallways can be made to be spectacular to behold. You can create an endless hallway by placing a mirror at the other end of a hallway. This decoration technique will give your visitors something to think of.
Lighten
Due to its nature as the entrance into your home, you should utilize it to impact the mood of your visitor. A dim hallway is not attractive. You can illuminate your hallway by sitting up bright floor standing lamp or high ceiling chandelier.
Enhance The Floor
You can create an impressive impression through flooring of your hallway. You can add tiles, carpets, rugs or wooden floorboards to improve the look of your hallway.
With these decoration tips, you will add so many lovely features to your hallway.
Six Tips for Your Holiday Shopping
Holidays are wonderful periods for making shopping, as there will be discounts offered for various goods by different retail stores. Most shop-goers are likely to overspend during holiday shopping than they would during an ordinary time.
In order to make a successful and responsible holiday shopping, follow these six tips for your holiday shopping.
Create a Shopping List
You are naturally bound to buy more than you need if you do not for a holiday shopping with a list. In addition, you will spend beyond your budget. You can keep your spending in check by creating a list of items that you want to buy.
Shop Online
There are online stores that allow buyers to shop with ease and comfort. Some online stores offer discounts for new buyers. You can register on any of the online stores and get started with your shopping.
Use Strong Passwords during Online Shopping
Online shops contain your vital details such as credit card information. You should use a strong password or change passwords after each transaction. This way you will protect yourself from online scammers.
Keep an Eye on Your Bought Items
If you are shopping in a brick and mortar store, you should be careful with your items. There are so many bustles going in the store that thieves may take advantage of to steal from you.
Compare Different Coupons
Various shops offer coupons at different rates. If you have a coupon for a particular store you may get a better deal from another store.
Pay In Cash
It is important to keep your credit card at home during holiday shopping. Paying in cash will help you cut the urge to spend the money that you do not have in your bank account.
There you have it!  These ideas will guide you to have a memorable and safe holiday shopping.
Six Tips for Arranging Photos on Your Wall
Photos can be used warm up a room and create enthralling decorated walls. Photos are artworks that are can be used to beautify your wall and another home décor. This aim cannot be achieved if the photo is poorly arranged on your wall.
Here are some effective techniques for decorating your wall with photos.
Lean Against a Wall
One benefit of this technique is that you do not have to drill the wall before you can decorate it with a photo. You can place the piece of artwork on a shelf while it leans against a wall.
Group Smaller Pictures
Smaller pictures can be grouped in clusters. It can create a focal point in your room, as it will inevitably draw attention. Ensure that the edges of each of the frames are at ninety-degree angles to each other.
Use Relevant Photos
You do not just have to use any photo in decorating your wall. Wall photos should appear professional and unique. It should have a story to tell to anybody that looks at it.
Single Hanging
It is an easier method unlike the grid and linear patterns. It is used specifically to create a focal point in a room.
Linear Style
Photos can be used to create balance and rhythm by hanging them on a wall in a linear form. It can be done either vertically or horizontally.
Grid Pattern
You can decorate your walls with pictures by arranging them in precise rows and columns. This method works well with the wall and is used to emphasize on memory.
Photos are fantastic artworks that you can use to decorate the wall of your home. These tips will enable you decorate your wall perfectly using photos.
Six Things to Consider Before Shopping For Your Home Décor
Purchasing home décor can be done perfectly well by following some certain factors. Without following these methods, home interior designing can turn out to be a messy experience.
Irrespective of the décor that you want to purchase, there are six things you should consider which include
Color of Décor
The color of the décor matters a lot. It determines how every other décor will look. You should decide if you need a color of furniture that will add either warmth, coziness or elegance to your home.
Size
This is the most important factor that you should consider when buying home furniture. The size of the furniture bought should be in tandem with the size of the room. Large sized furniture will take up more space in a room while smaller sized furniture will consume less space and create more space for ease of movement.
Comfort
When buying house furniture, the major aim is to add comfort to your home. Furniture like sofa and bed should be bought to provide comfort more than an aesthetic appeal. Ensure that you purchase the one that will provide you with comfort.
Prices
Many home décor buyers have this notion that the higher the price of a furniture, the better it is. This is not true because some cheap furniture can provide a better interior than the expensive ones. Therefore, you should research and choose your furniture wisely.
Choose Items That Will Make a Statement
Home décor can be used to tell a story about your life or experience. You should buy a house décor that can tell your story meaningfully.
Style
Style matters in an interior decoration. You can buy curtains whose color will match the color of the floor. You can also shop for items that have alternating heights to add visual interest and depth.
Ensure that you have these tips on your checklist when next you will be shopping for home décor.
Six Must-Haves in Every Home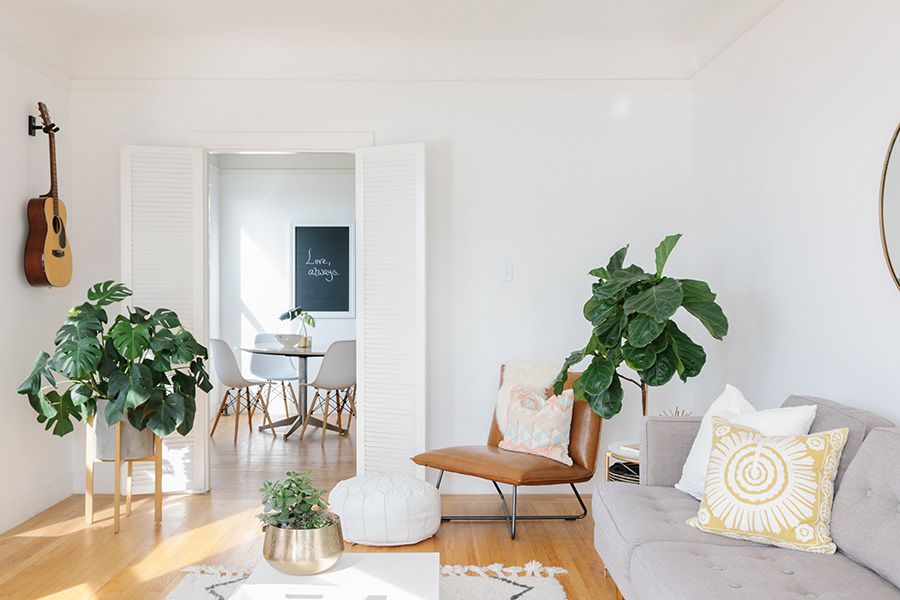 Irrespective of whether you have a Victorian or contemporary style of interior design, there are certain must-have items that should be in every household.
Let us look at the six must-have items you should have in your household.
The Coffee Table
A living room is not complete without a coffee table. Traditionally, coffee tables are sandwiched between the sofa and the armchairs or placed in the center of a living room. It is functional and connects all the elements of design in a living room.
The Bedroom Bench
This decorative element is a versatile piece of furniture. They provide a place to sit on and can serve as a place for storage in your bedroom. You can get one whose design matches that of your bed.
A Home Office
It is important to dedicate a part of your home where you can accomplish office tasks. This should be done even if you do not work from your home.
Closets
This is the go-to spot for getting rid of and arranging the clutters. A cavernous closet will be perfect for your home.
The Console Table and Artwork
This is where the room's décor is displayed. Its beauty and versatility can be enhanced or complemented by hanging a mirror or an artwork above the console table.
Windows
This decorative element is commonly seen in every home. Windows serve as a gateway for natural light and air into your home.
These are the six must-have items that you should consider to have in your home.
Six DIY Techniques for Decorating Your Kitchen
There are techniques that you can use to decorate your kitchen without hiring the services of decoration expert or spending a fortune to decorate your kitchen. Look at these DIY techniques for decorating your kitchen.
Add Light
A dim light will spoil the look of your kitchen. You have to add an overhead light fixture in order to infuse liveliness, inspiration, and elegance in your kitchen.
Install a Rug
All you may need to make a difference in your kitchen is a rug.  A rug is very easy to install. You can use colorful rugs that will match another kitchen décor to beautify your kitchen.
Upgrade the Kitchenware
Switching old and rustic kitchen items for new ones could be all it will take to make transform and make your kitchen look better.
Remove All Clutters
You can transform the look of your kitchen by simply decluttering. Keeping kitchen items unarranged can make your kitchen appear crammed up. Remove excess items from the counter and put them back where they are supposed to be.
Cover Walls with Color
Adding colors to the walls of your kitchen is an easy-to-do decoration technique. You should select a color that will inspire the rest of the kitchen décor and make your kitchen feel sophisticated.
Buy a Nice Dish Rack
A dish rack is a conspicuous kitchenware. You can buy a cheap wooden dish rack to beautify your kitchen. It will definitely make a statement in your kitchen.
Use these ideas to decorate your kitchen in a grand style.
Six DIY Techniques for Cleaning Your Home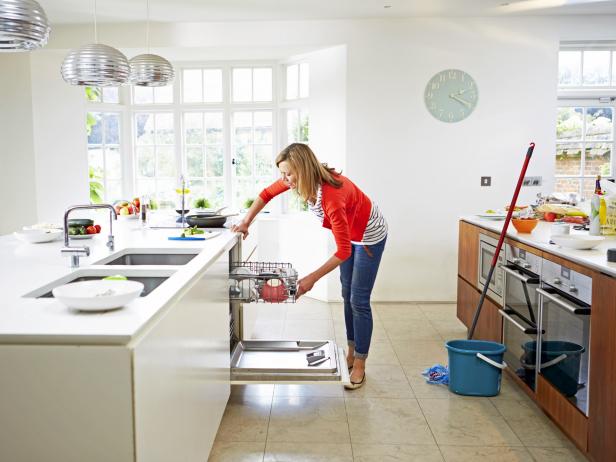 A clean home is conducive to live in. Most homeowners secure the services of home cleaning companies to get rid of dirt in their homes. This method can be expensive.
There are easy techniques that you can employ to clean your home by yourself. These techniques are:
Create a Plan
A plan would enable to determine how your cleaning schedule would look like. Decide how clean you want your home to be and how much time you should channel into accomplishing it.
Start At the Top
During cleaning, you should do it top down. This is to enable the dirt from the upper surfaces to fall on lower surfaces that are yet to be cleaned.
Clean the Bedroom
You can start cleaning your bedroom by making your bed. It makes a room to have a better look and feel. You can also wash the sheets as a clean sheet adds function to your bedroom. Clear all clutter by gathering them in a basket or bin.
Living Rooms
In the living room, you should take away all clutters. Clean every corner top down. Use a vacuum cleaner to take away the dirt on the upholstery furniture.
Kitchen
Load all the dirty plates in the dishwasher filled with hot soapy water. Wipe away dirt from the counters, cabinets and other surfaces using a sponge dunked in hot water. You can use floor cleaning solutions to clean the floor after you have done every other cleaning.
Clean the Floor Lastly
After you have cleaned the ceiling fan, dusted the cabinets and the louvers, the floor should be cleaned last. This removes all the dirt that had fallen on the floor from cleaning another interior décor.
A clean home is a happy home. these are the DIY methods of getting rid of the dirt in your home.
Six DIY Techniques for Beautifying Your Walkways and Lawns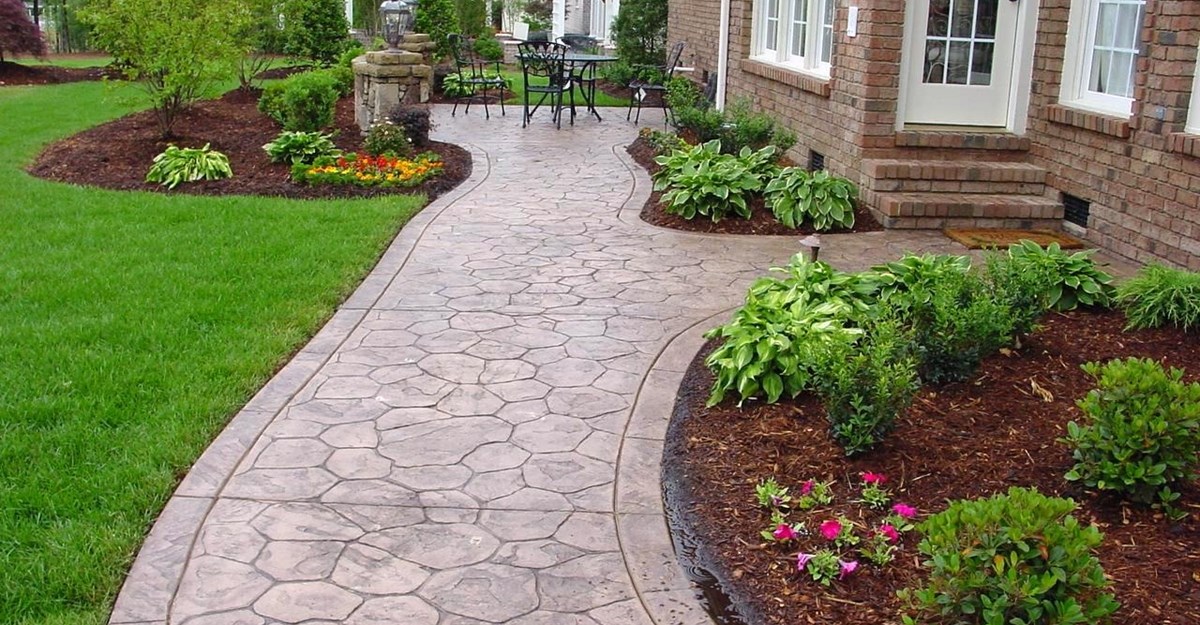 A well-designed walkway and lawn can add more focus and charm to your home. Every lawn needs a walkway and this path has to be properly beautified to enhance the glamour and the appeal of the lawn.
The walkways and lawns can be beautified through six DIY techniques. They include:
Illuminate the Walkway
A walkway should be illuminated if it is regularly used at night. You can install a variety of lights around the walkway such as hanging lamps for tree branches or post-shaped lamps.
The Materials
There are materials that will complement the appearance of the lawn and improve its looks. You can use materials such as wood, terra cotta that will make your walkway have a natural feel and charming.
The Pine Sleeper Walkway
This is a walkway built on tracks just like a railroad track. This will take the look of your walkway to an entirely different level.
Add Gravel
This will result in creating a compulsive environment with an interesting beauty. This will contribute immensely to the enrichment of the lawns. It is very easy to do.
Wooden Planks
This is another easy way to beautify your walkway and lawn. Most contemporary homes have wooden planks on their walkways. You can buy the wood yourself and do it yourself.
Stepping-Stones
Stepping stones add beauty and class to the ambiance of a home. It is the easiest option for beautifying your lawn and walkway. All that is involved is to place a small number of flat pavers in a row about a step distance apart.
These tips are a sure way of making your lawn and walkway look fantastic.
Six DIY Methods to Decorate Your Window
Having a well-designed decorated window is a way of creating a wonderful looking home. Besides being a route for natural air and bright sunlight to penetrate into your home, they can be used as a piece of decoration.
With this being said there are six DIY strategies that you can use to enhance the look of your window.
Use as a Storage Space
You should not let the space available on your windowsill go to waste. Add style to it by using it to store boxes or any other material and organize your room.
Curtains and Drapes
You can treat yourself windows using curtains or drapes. They make your window to appear professional. You can get install the design and color that you want.
Stained Glasses
Stained glasses are a decorative element that you can use to create an appealing home. As the sunlight penetrates through the stained glass, it casts magnificent hue of color around your home.
Grow Plants
You can use this spot to display your flair for nature. Highlight your love for organic plants by gracing your window with different beautiful small plants in jars or pots. Bring some natural feel to your home using this spot.
Lighten It Up
You can make your evening more relaxing by placing some candles on your window. You can use it to create a romantic moment in your home.
Plastic Window Sill
You can add personality to your home by using contemporary plastic windowsill designs. Plastic windowsills add function to your home.
Having a perfectly decorated window is a blessing. Ensure that you use this tips to create a fascinating window and home.
 Six Color Themes to Give Your Living Room a Cool, Calm Look
A living room should be calmly looking. There are color themes that you can use to make your living room a go-to place for calm and relaxation. The appropriate use of these colors determines the success of the styling and decoration of your living room.
Do you want an ideal calm and soothing living room? Here are six ways to achieve this decoration design.
Use Shades of Grey
Grey colors are perfect for creating cozy spaces. This color is awesome in adding warmth to a room as well. You can use it with a touch of yellow or red to give you impressive hues of color that will enhance the warmth and coziness of your living room.
Browns and Tans
These colors induce warm and welcoming feels into a living room with a calming air. It also makes a living room to appear elegant, relaxing and comfortable.
Sea Hues
Sea hue themes create a welcoming and inspiring living room. It accentuates the grace, beauty, and calmness of a living room.
Forest Greens
A fascinating feature of this color theme is that it makes a living room captivating and restful. It evokes a sense of nature, which in turn enhances relaxation.
Floral Color Theme
A color that has a floral theme makes a living room flourish with calmness and serenity. You can use different floral patterns to take the coziness of a living room to the next level.
Blue
Blue color themes are a very calming and restorative color. You can use light, warm blues to create a relaxed and serene living room.
Give your living room the calm and soothing looks that it deserves with these listed techniques today.